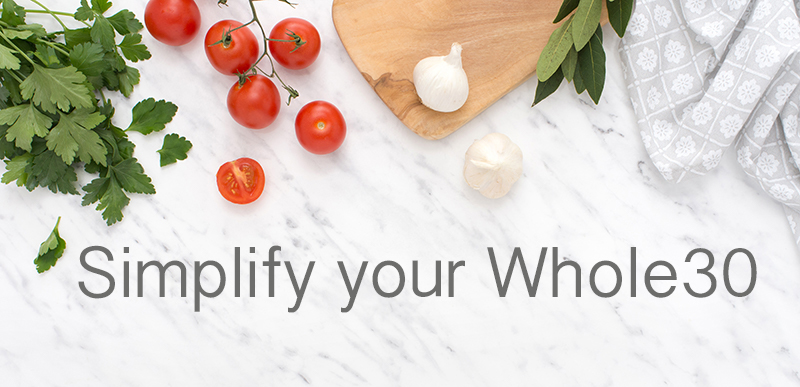 When I decided to attempt another Whole30 (after a previous failed attempt), I knew that finding compliant convenience items would be the key to success this time around.  The first time I tried a Whole30, I felt like I needed to make every sauce imaginable and all of my own spice mixes.  I put way too much pressure on myself and I knew that this time around, taking on the challenge of changing my diet was enough.  I needed to give myself a break.  For this Whole30 journey, I did not prioritize things like making homemade dressings or mayo as something that I was willing to spend time on.  (I know, I know, people say these are so quick and easy, but to me, it was extra time and extra dishes to wash!).  I also knew that there would be days that meal prep just wouldn't go as planned, so I knew that having "emergency meals" on hand would be really important.  I've shopped MANY different stores and sites and have narrowed down my list of favorite Whole30 convenience items!  I hope this list helps you during your journey through the Whole30 or even just healthier eating!  Over the next couple of weeks, I'll be sharing some of my favorite ways to use these ingredients!  At the bottom of this post, I'll share my top 5 favorite items!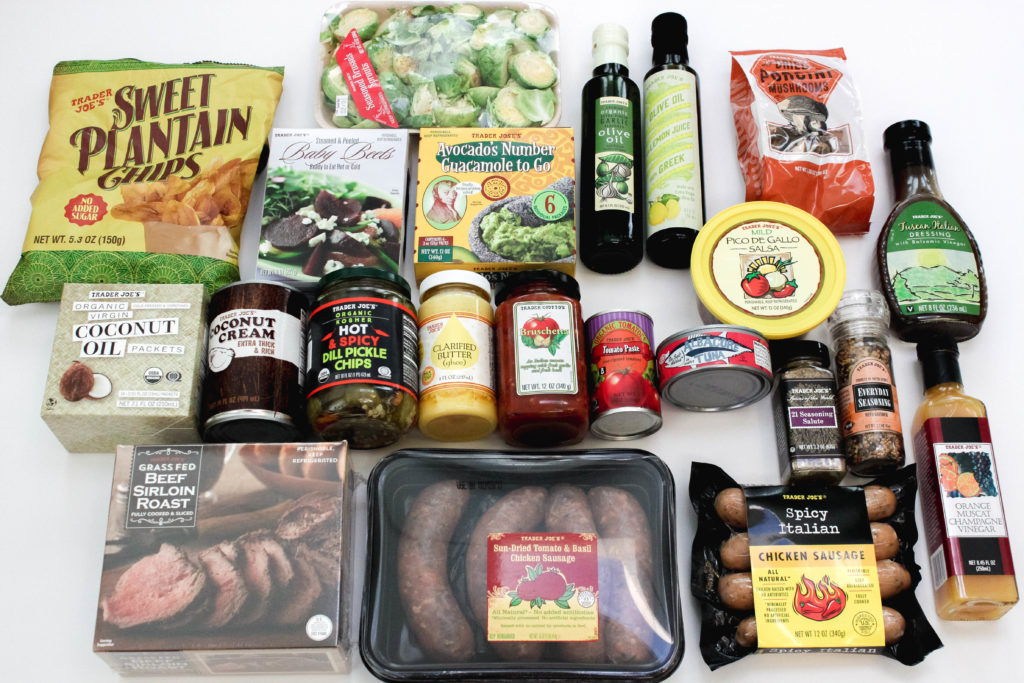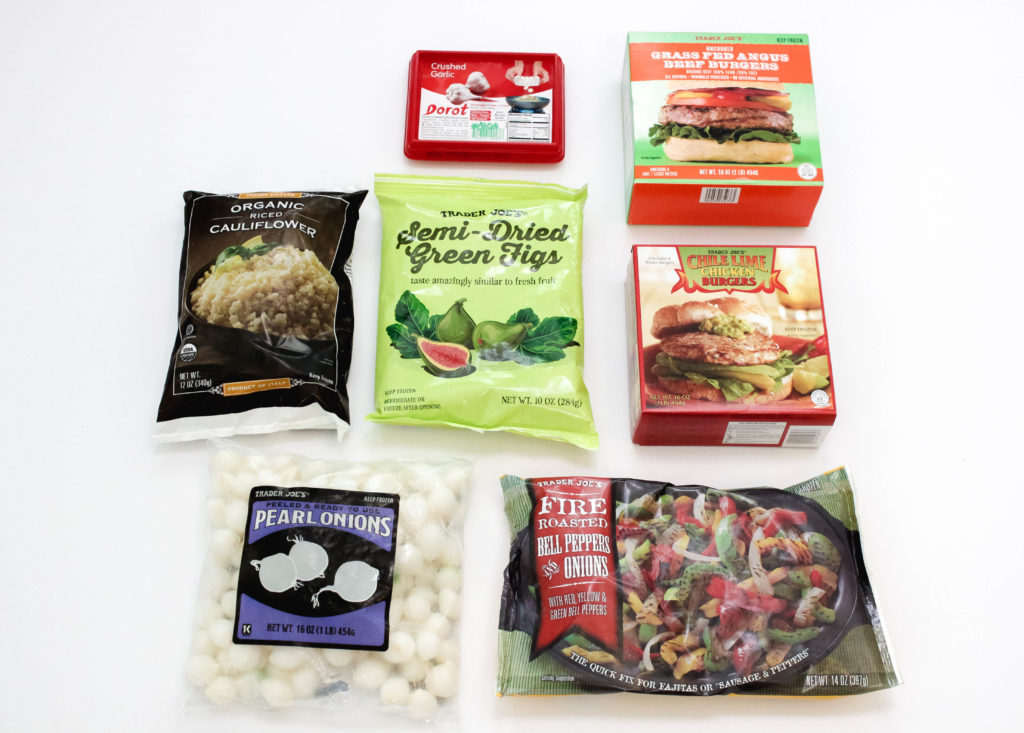 Trader Joe's (Trader Joe's became my weekly essential store to hit.  There are just so many compliant options and the prices are reasonable)!  Seriously, with this long of a list, I think you're covered in the easy meals department during the Whole30!  The top photo is refrigerated/pantry items and the bottom is freezer items.
Sweet Plantain Chips – surprisingly delicious, they make a great emergency snack paired with some pistachios!
Trader Joe's shaved Brussel sprouts (not pictured) or Halved Seasoned Sprouts
Baby Beets (peeled and cooked- ready to use)
Avocado's Number Guacamole To-Go – I love that these are individual little packets of compliant guacamole.  Lots of flavor, and never browns!  Perfect for taking on the go to work!
Garlic Oil and Lemon Oil
Dried Porcini Mushrooms
Coconut Oil Packets
Coconut Cream
Hot and Spicy Dill Pickle Chips
Clarified Butter (Ghee)
Bruschetta Topping
Tomato Paste
Albacore Tuna in Water (no salt added)
Pico de Gallo
21 Seasoning Salute
Everyday Seasoning
Tuscan Italian Dressing
Orange Muscat Champagne Vinegar
Trader Joe's Hatch Green Chile Salsa – not pictured because I just ate it all! 😉 Do yourself a favor and get some to mix in to your scrambled eggs in the morning.
Precooked Beef Sirloin Roast – this is surprisingly tender and delicious.  One of my favorite emergency items to have on hand!
Trader Joes sausage (Sun-dried Tomato and Basil and Spicy Italian Chicken Sausages)
Frozen Riced Cauliflower
Frozen Crushed Garlic (Be careful on this one, the frozen basil has corn starch in it)
Beef Burgers
Chipotle Lime Chicken Burgers
Fire Roasted Peppers and Onions
Semi Dried Frozen Green Figs
Pearl Onions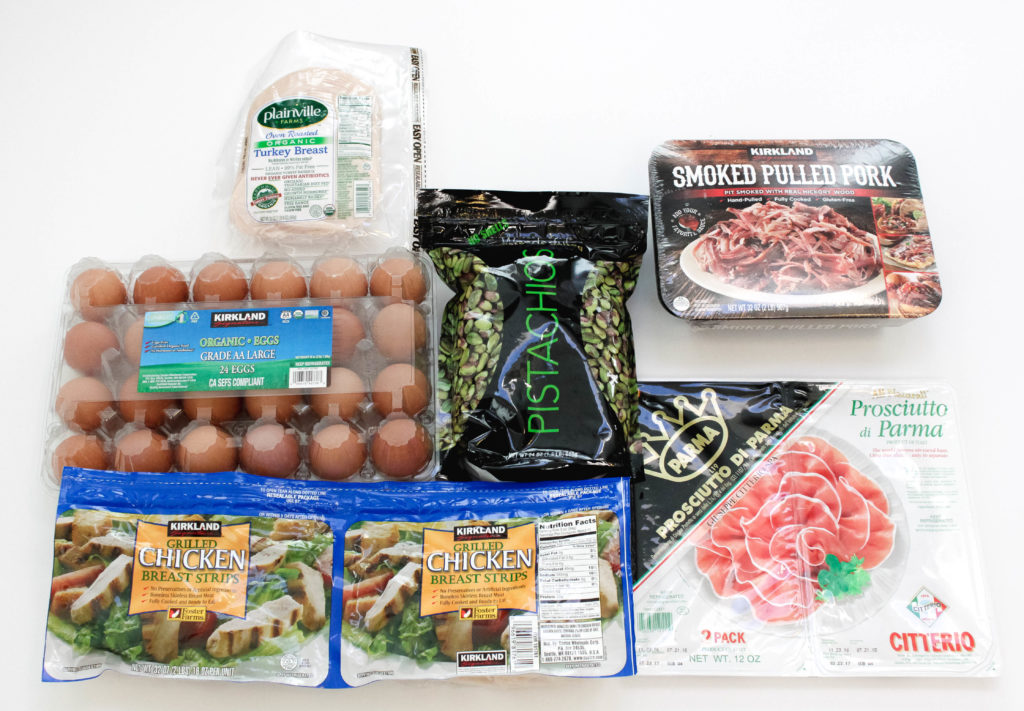 Costco
Kirkland Grilled Chicken Breast Strips
Kirkland Smoked Pulled Pork
Kirkland Marinara Sauce (not pictured)
L'Croix (not pictured)
Prosciutto di Parma
Kirkland Organic Eggs
Wonderful Roasted and Salted Pistachios (Shelled)
Plainville Oven Roasted Organic Turkey Breast deli meat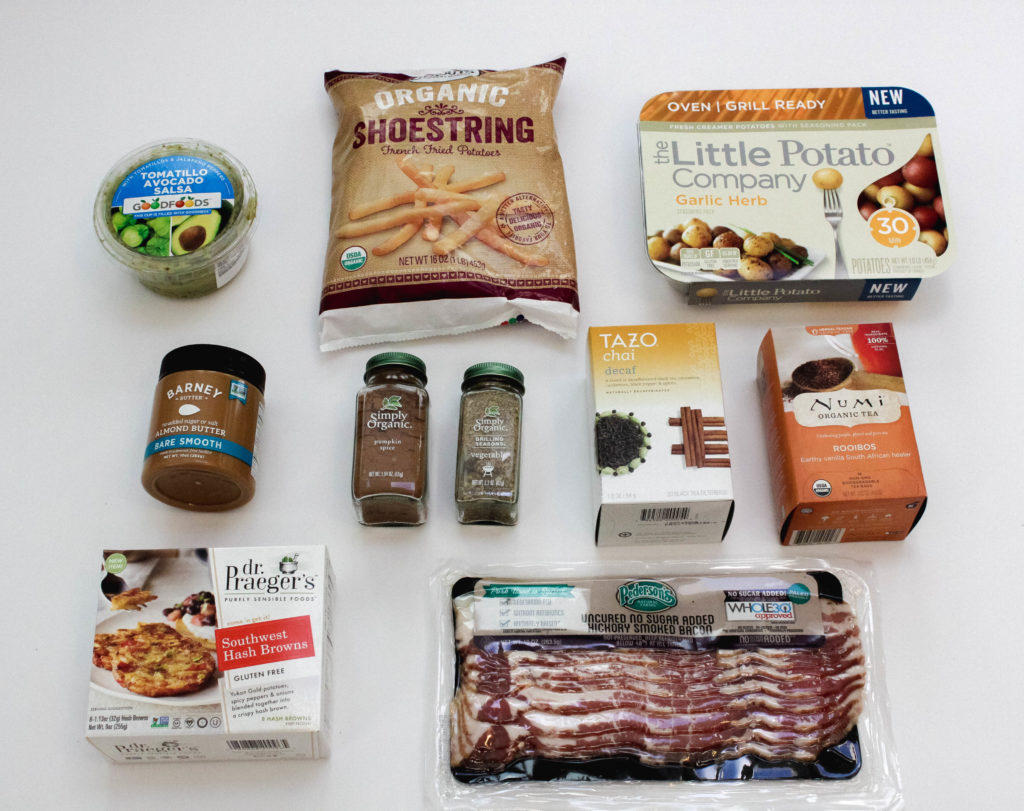 Sprouts
Sprouts Organic Shoestring French Fried Potatoes
Dr. Praeger's Southwest Hash Browns
Pederson's Bacon
Barney Bare Smooth Almond butter – trust me on this one!  Its the only completely smooth, spreadable almond butter I've found!
Sprouts Pickles (not pictured)
GoodFoods Tomatillo Avocado Salsa
Sprouts Coconut oil spray (not pictured)
Tazo Chai Decaf
Numi Rooibos
Simply Organic Pumpkin Spice blend
Simply Organic Vegetable seasoning blend
The Little Potato Company Garlic Herb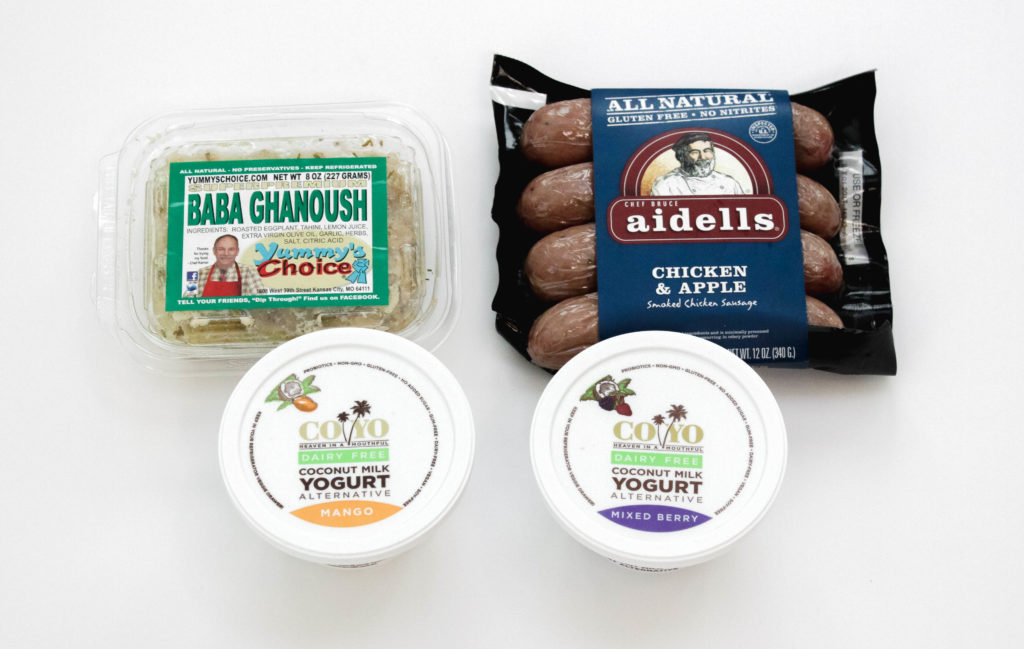 Whole Foods
Primal Kitchen Mayo
Tessamae's Creamy Ranch (not pictured – its new – be sure you get the creamy ranch).  I'm pretty sure I tried every brand/type of compliant Ranch dressing, because, well, Ranch dressing….Anyway, this creamy ranch takes the number one spot in terms of store bought compliant Ranch!  But, Whole Sister's Dump Ranch takes the cake in the Ranch dressing department.  This is the one and only condiment that is worth making yourself (if you can).  It's simply delicious.
Tessamae's BBQ sauce (also not pictured – these were in my fridge and I forgot to take them out!)
Tessamae's Ketchup
Aidell's Chicken Apple Sausage (available at many stores)
CoYo Dairy Free Yogurt – Mango or Mixed Berry
Convenience cut or spiralized veg
Yummy's Choice Baba Ganoush
Mango Salsa (not pictured, pre-made, in the produce section)
Through my Whole30 journey, I've honestly found SO MANY great products that I feel good about feeding our family.  It's hard to narrow my list down to my top 5 favorites, but here they are!
 Nutpods coffee creamer – I have to order this online, but its so worth it!  I use the French Vanilla in my Chai, the Hazelnut in my coffee, and the Original as a replacement for butter/cream in recipes!  I don't think I would have survived my Whole30 without this stuff and its earned a place as a mainstay in our house for life after Whole30!  Between my friends and I, this became known as my "coffee crack."
Avocado's Number Guacamole (Trader Joes).  I love this stuff and can eat it on everything.
Kirkland Grilled Chicken Breast Strips (Costco).  These are just so versatile!
Aidell's Chicken and Apple Sausage.  This is so seriously good.
Primal Kitchen Mayo.  Another staple that will remain in my kitchen for life after Whole30.  It's another big reason I made it the entire 30 days!