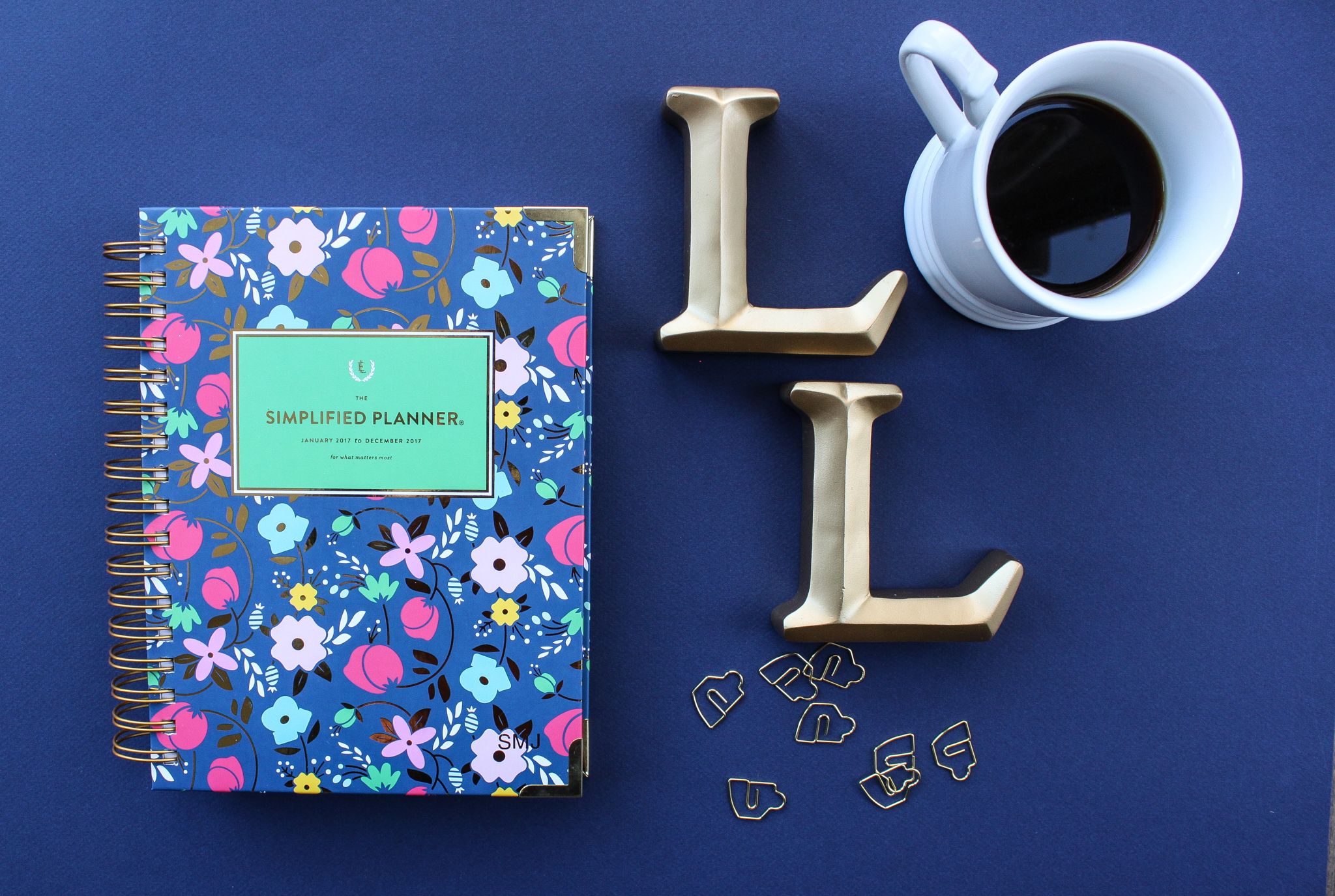 Hi!  I am so excited to share this post with you!  When I decided to leave my job, I started the hunt for a planner to keep our life organized.  After a great deal of research and trying a few different planners, I finally found the perfect daily planner!  Its the Simplified Daily Planner by Emily Ley.  I've been using it for a year now and just ordered my 2017 planner!  In one years time, this has gone from a planner I'd never heard of to me sitting in the parking lot of preschool drop off ordering my 2017 planner the SECOND they went on sale.  I love it that much.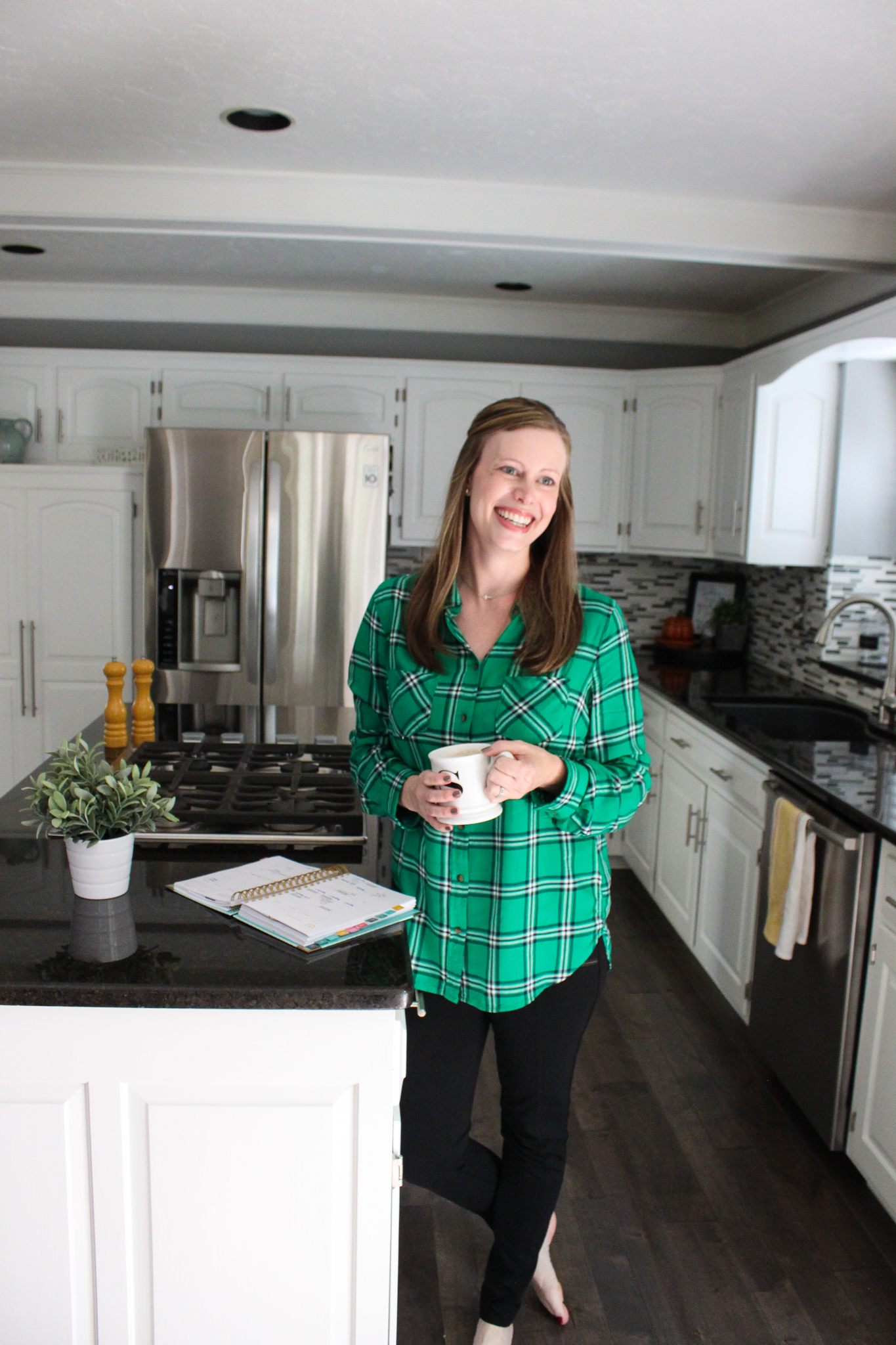 Today I'm going to walk you through how I use my planner and why I love it so much.
To start, the Simplified Planner has a page dedicated to each day of the week (with Saturday/Sunday sharing a page).  There's a section with your daily schedule (each hour of the day from 6 am to 9 pm), a To Do section with plenty of room for long lists, a Dinner section, and a Notes section.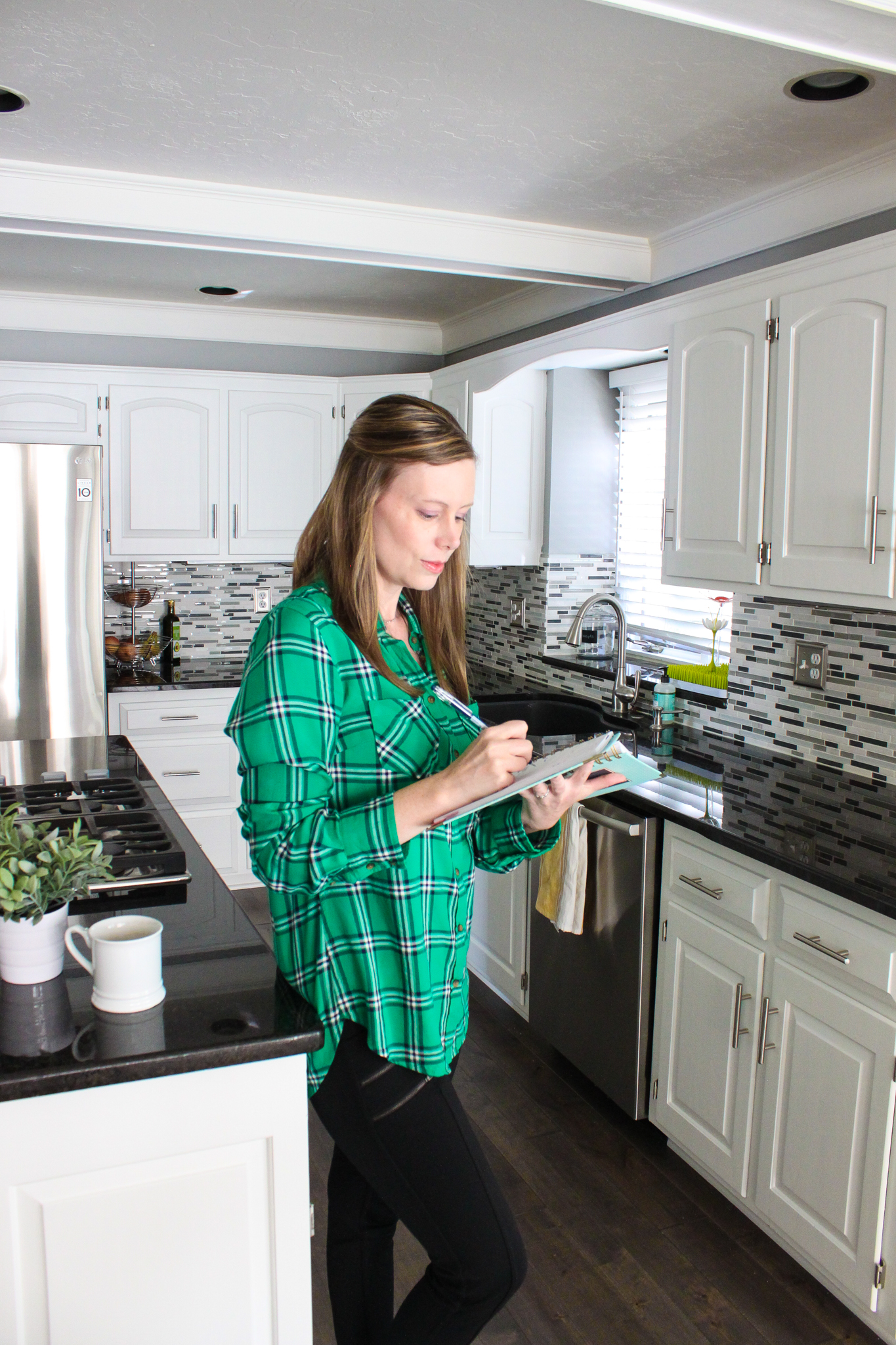 Let's start with the daily schedule section.  This is where I write all of our timed events – doctor's appointments, play dates, events that we want to attend, etc.  I use different color pens (these are my favorite – they are bright, they don't bleed through the pages, and best of all, they ERASE)!!  I write scheduled events (appointments, play dates, preschool events, etc) in bright pink.  Meals are written in blue and household to-do's are written in orange.  Blog to-do's are written in green.  With a quick glance at any page, I can easily tell which activities are flexible and which are not.  For example, doctor's appointments are written in bright pink.  If I need to schedule another appointment, I can quickly see that the pink items cannot be scheduled over.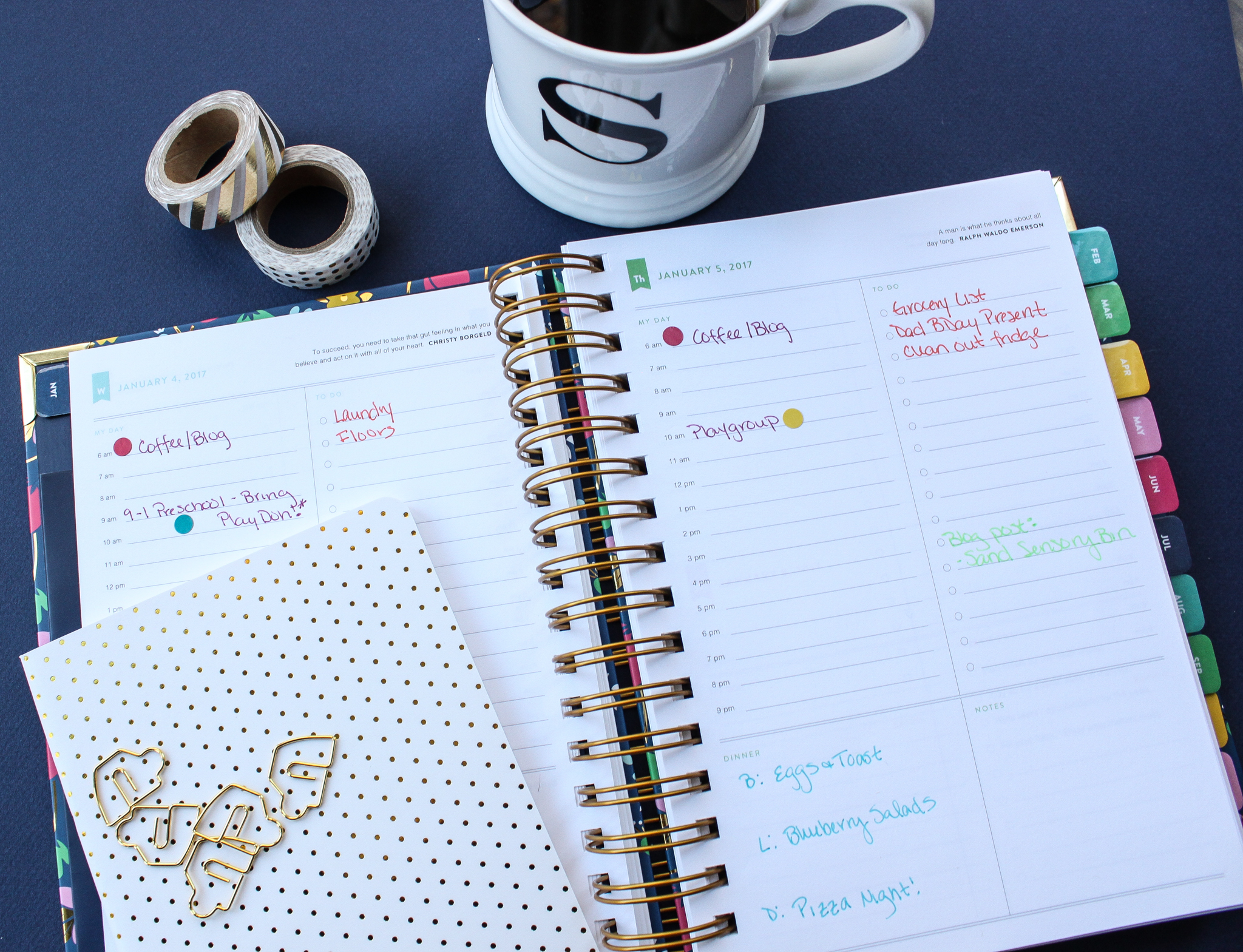 In the To-Do section, I write my list for each day.  I do certain household chores on each day of the week.  When I have housework scheduled, I feel less overwhelmed by it.  I just tackle the one or two items on my list for that day and then I'm done!
In both the daily schedule and the to-do sections, I use dot stickers (also from Emily Ley) to indicate which people those items are for.  For example, I place a blue sticker next to preschool because that involves only Noah.  Of course I use pink for me. 🙂  And yellow is something both boys attend.
The Dinner section is where I track all of our meals for the day.  I do wish that this section was just titled Meals, as it is a big enough space to include more than just dinner.  I just write B, L, D (for Breakfast, Lunch, and Dinner) in a column and what we are eating for each meal next to the letter.  If I have specific snacks on hand for the week, I will sometimes jot those down in this section as well.  Planning out our meals this way makes our week run smoothly.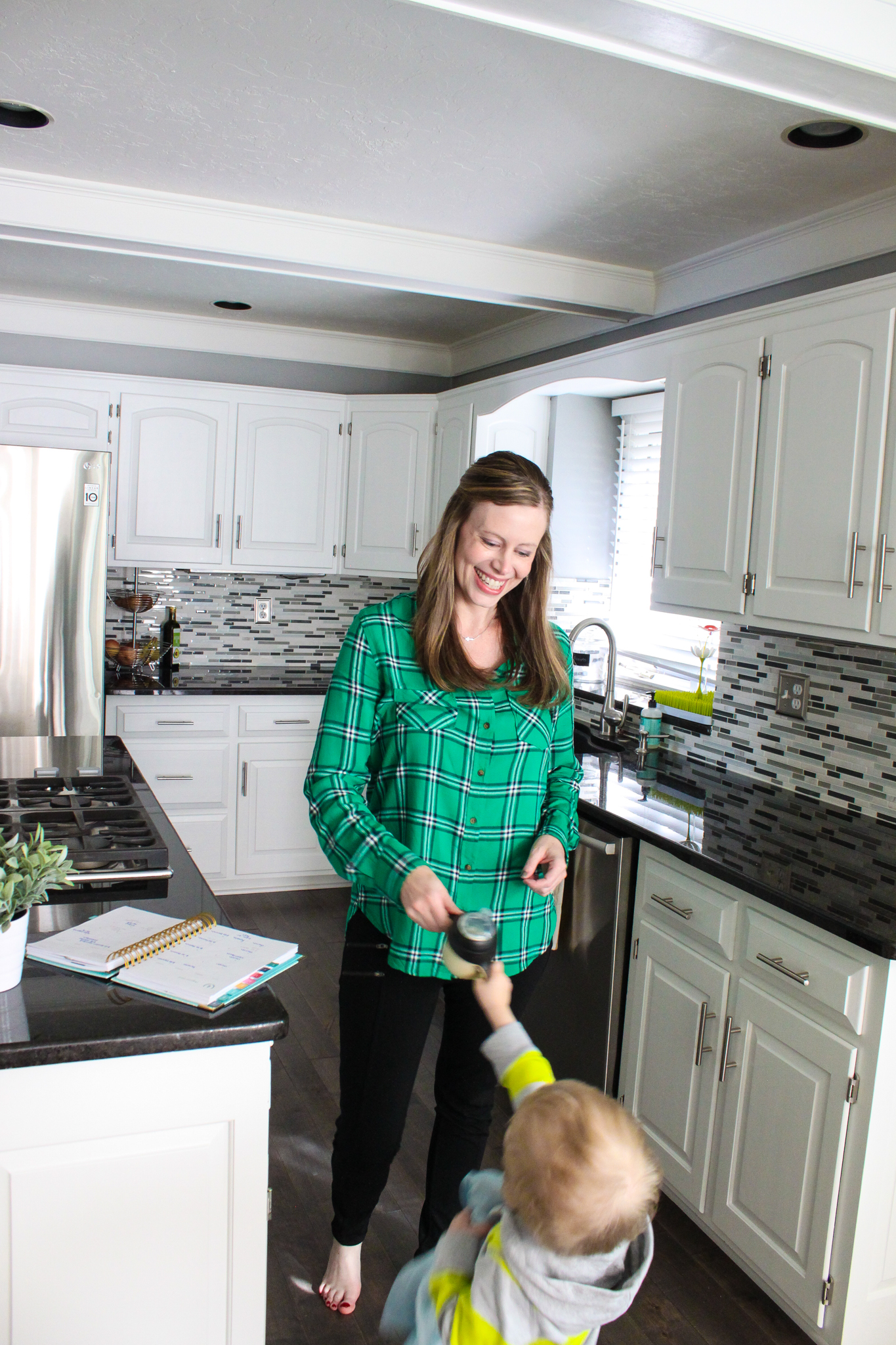 You could use the notes section in any way you like.  I use mine to jot down things I don't want to forget, like grocery items we've run out of, blog ideas, etc.  My planner is always out on my kitchen counter, so it's a quick catch-all for things I need to remember.
Another thing that I love about my Simplified Daily Planner is the inspirational quotes on each page.  I read them each morning while I'm making my coffee and reviewing my plan for the day.  🙂
The planner does include a monthly page with the whole calendar view of each month.  I do always write the important appointments (in pink to match my daily pages) on the monthly view as well.  This gives me a quick overview of just the really important things without crowding that view.
Last, but certainly not least, let's not forget the adorable little coffee cup paperclips!!  I just think these are the cutest!  (Side note – this is my absolute favorite coffee mug – by Rose Henges.  This mama needs a lot of coffee fuel!).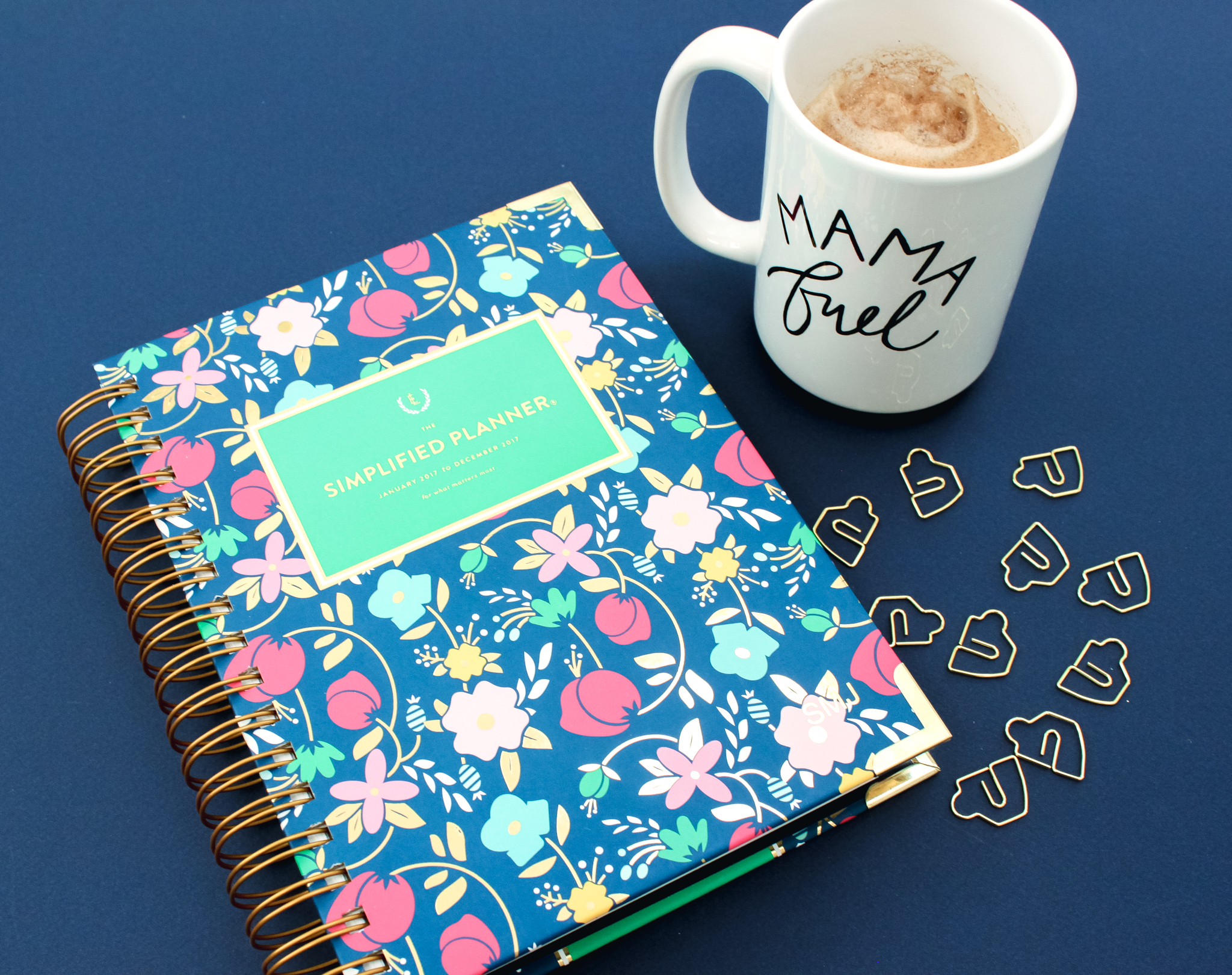 I recently purchased the matching washi tape, but I still haven't quite figured out how I want to use it.  For those of you who love an organized life as much as I do, how do you use washi tape in your planners?!?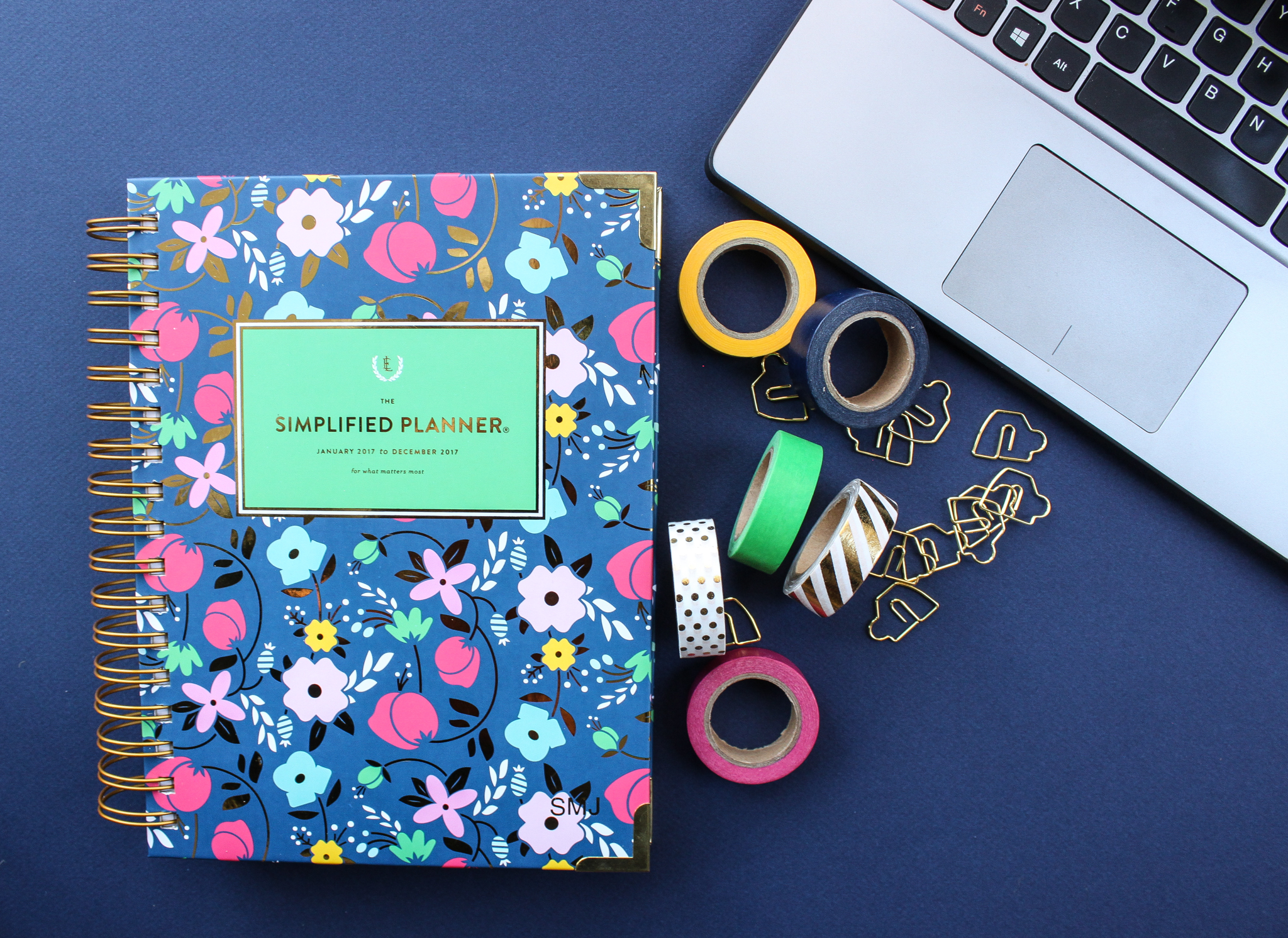 I should note that Emily Ley did not sponsor this post.  I do hope she'll read it though – ha!  🙂  I wanted to share this with you because this is truly my number one organizational tool that keeps life running smoothly at our house (or as smoothly as it can with 2 kids ages 2 and under)!!
Since Emily Ley planners are my favorite organizational tool, I'm giving one away!  Enter here!