One of the things that I've struggled most with in our house is how to create a functional entry in a small space!  I love the mudrooms that I see on HGTV with the benches and locker style cabinetry for coats and shoes.  My dream house would definitely include a huge mudroom area!  (Is that a sign of getting old – when your criteria for your dream house includes a big mudroom and laundry room?!).
Now that we have kids, which means a lot more stuff, I've come to realize just how poorly our house is laid out in terms of storage space on the main floor!  Our garage door and front door both open to the same small entry space.  There is just never enough room for coats, shoes, and bags!
After our home remodel earlier this year, I really focused on our entry.  I needed to convert that small, disorganized space in to something pretty but very functional.  My list of criteria included bins for each family member, a place to sit to put shoes on, and a place for keys and our dog's leash.
We have two small (and I mean small) coat closets.  I found Elf storage units with slide out drawers at the Container Store that fit perfectly on the floor of each closet.  They are very sturdy with a nice top on them (perfect for storing diaper bags on top)!.  We got enough drawers that each person in the family has their own drawer for shoes, hats, mittens, and scarves.  The dog even has a bin!
For storage of small items that we use frequently, like keys and the dog leash, I decided to make over a small table that was once in our kitchen.  It was a boring cream color and was looking a little worn.  Our house has a lot of neutral colors, so I decided that for the entry I really wanted a bold pop of color.  Bold pop of color is definitely what we got and I love it!  It was a super quick makeover – a light sanding and two coats of paint!  One day's work and our entry was completely transformed.  I placed a pretty, white chair in the corner to give us and our guests a place to sit to put shoes on, and the entry makeover was complete!  Have a look at the before and after: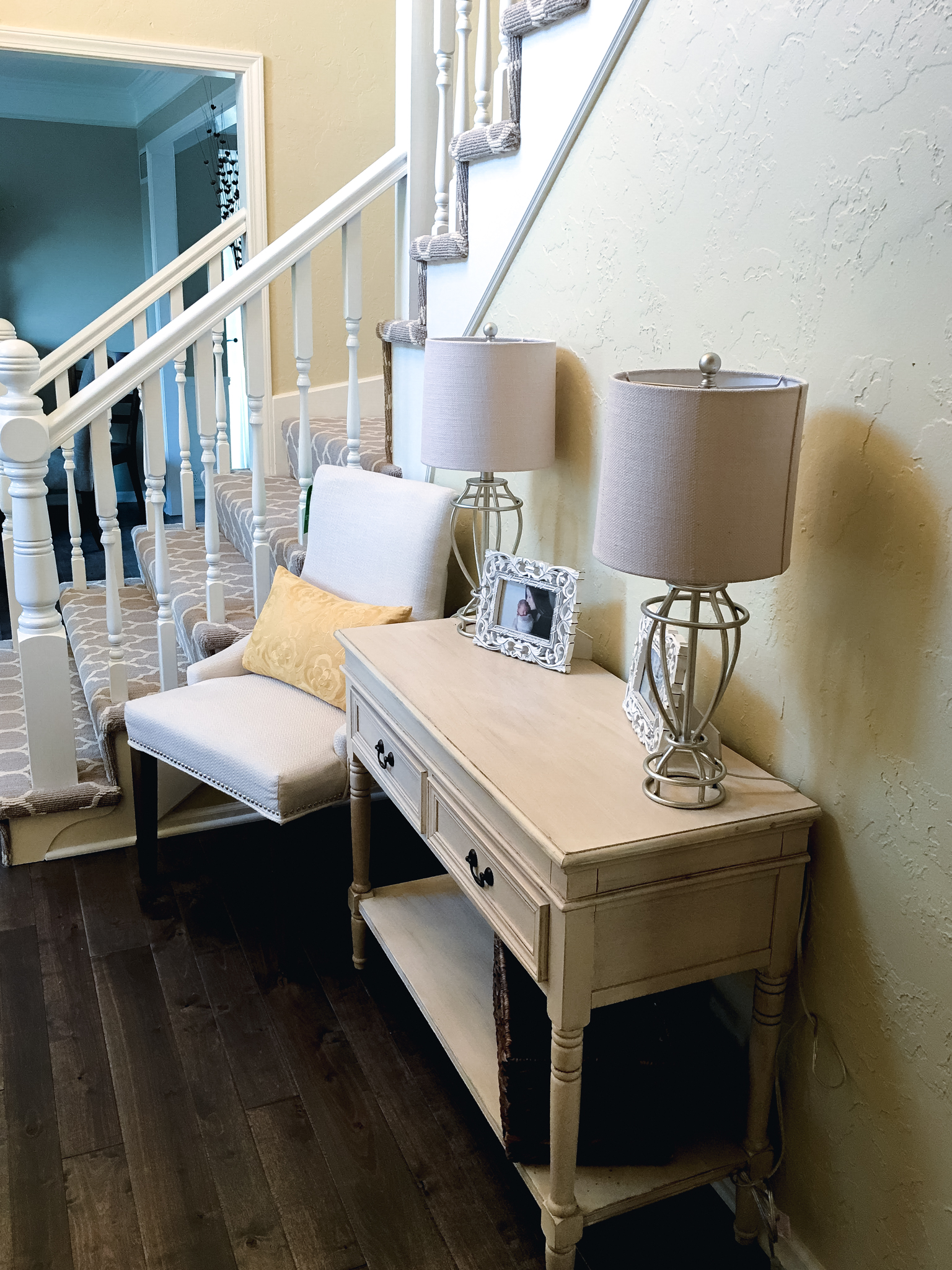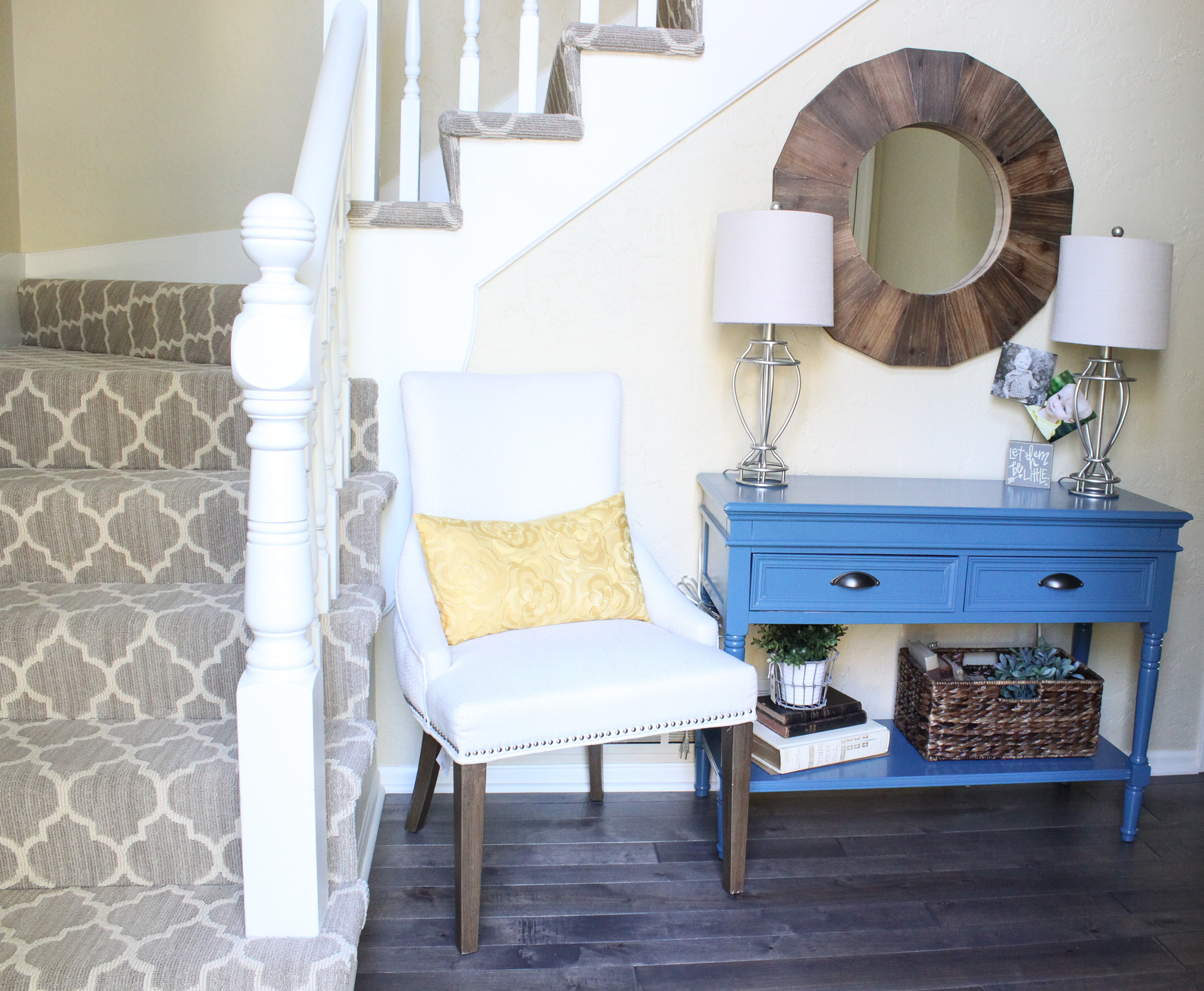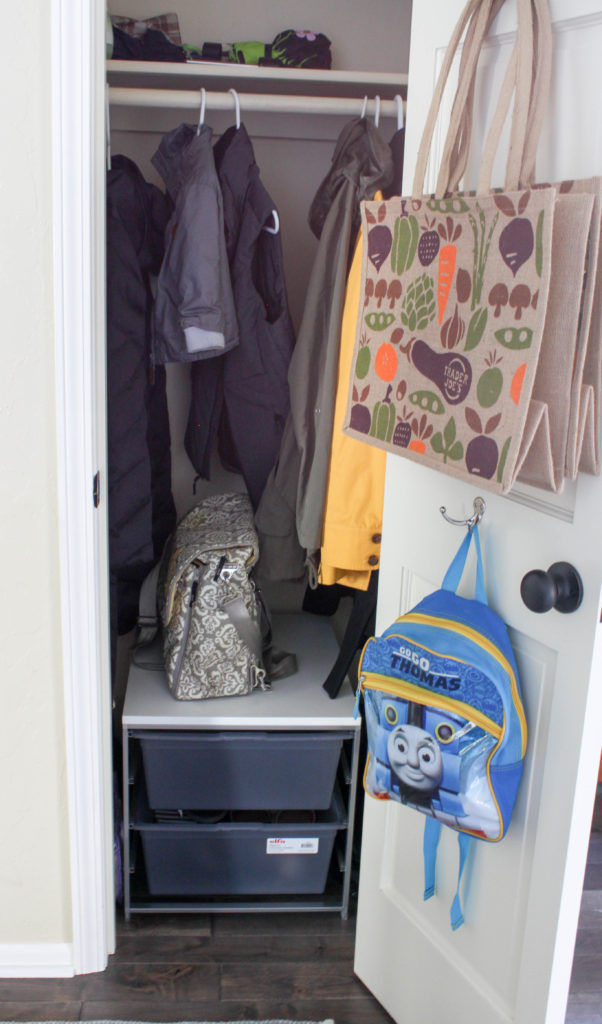 Having bins designated for each family member has really been a lifesaver.  As I've said before, it's so important when trying to keep a home organized that items have a home.  This gives all of those things that collect in the entry a home in the same area where they usually are left.  That makes it super quick to pick up shoes at the end of the day!  (Will they ever learn to put their own shoes away?!)  Sigh.  A momma can dream, right? 🙂
To break it down into easy steps, here's how to get your own small entry space organized!  (I suppose this concept would work for a big mudroom too).
 List your must haves in terms of functionality for your space.  For me it was a place to sit, a convenient area to store keys, and a shoe bin for each person in our family.  Then, keep your focus on making sure those must haves are met.
Add color to make the tiny area pop.  Stick with one bold color.  Too many will overwhelm a small space.
Add a fun, unique piece to the space.  I decided to incorporate a really unique, neutral wood mirror to make the space feel a little bigger and add something interesting to look at.
Use every inch of space that you have!  Add bins to the floor of a closet, baskets to shelves on top, or even a small shelf with a cute, tiny basket hanging on the wall to store keys!