Hey guys! My name is Diana — I'm lucky and grateful to be Sarah's friend and neighbor 🙂 — and I am so excited to write this guest post for you! I have been making pizza every Friday since I was in middle school. During a Lenten Friday when I was a teenager I remember asking my parents if we could order pizza for dinner (we're Catholic so we couldn't have meat), but like all good parents they told me "No, but you can make some." I ended up making a simple crust and topping it with marinara sauce and shredded mozzarella cheese. I figured it would be tasty (and it was!), but if you had told me I would still be making that same pizza recipe every Friday 25 years later, I'm sure I wouldn't have believed you. You could say that making this pizza every Friday is less of a tradition and more of an addiction (and you wouldn't be wrong!), but can you blame me?! Who wouldn't want to eat pizza every week?! My whole family looks forward to pizza Friday because:
1. There's no meal planning required
And of course:
2. Pizza!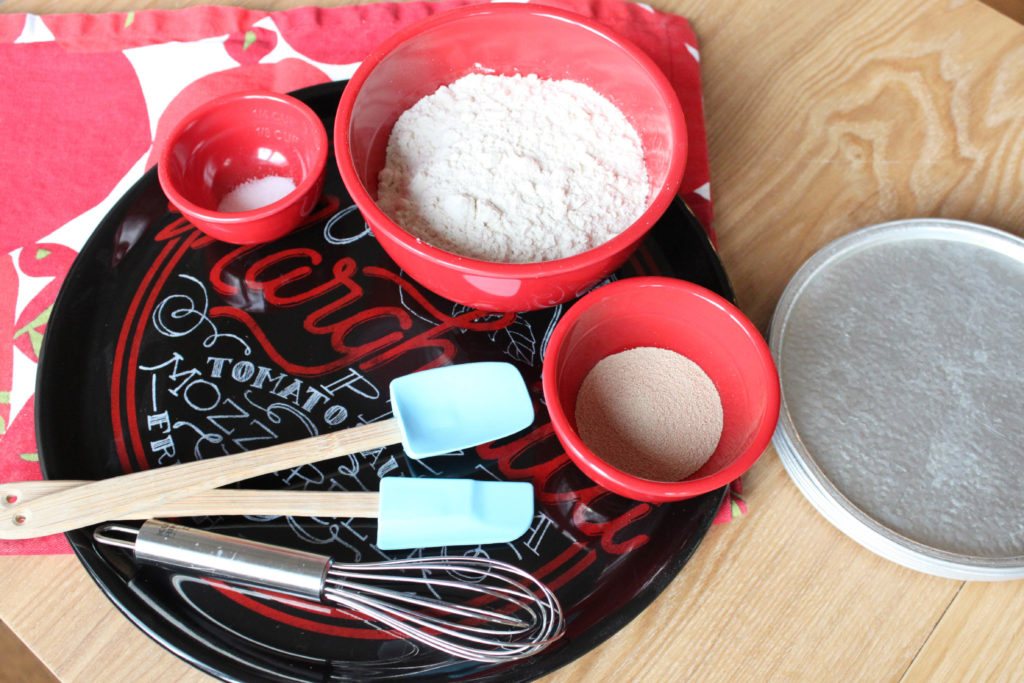 If you're ok still being friends even now that you know about my pizza obsession, read on! And if you'd like to try out this recipe for yourself, here it is:
Preliminary note: Making this pizza dough is faster and easier if you have a stand mixer but don't sweat it too much if you don't — you'll just need a little bit more muscle! If you aren't using a stand mixer I recommend a mixing bowl and fork. It's nothing fancy but it turns out just as tasty! (For the record, I've only had a stand mixer for the last 5 years of Pizza Fridays ;-))
Here's what you'll need:
1 ¼ c. very-warm-but-not-hot water (ideally between 105 and 110 degrees Fahrenheit)
1 package active dry yeast
Pinch of sugar
4 c. flour
Pinch of salt
Olive oil
Dissolve the sugar in the warm water and add the yeast. Allow it to "proof" (proof = fancy chef word for grow and look all crazy) for 5 – 15 minutes.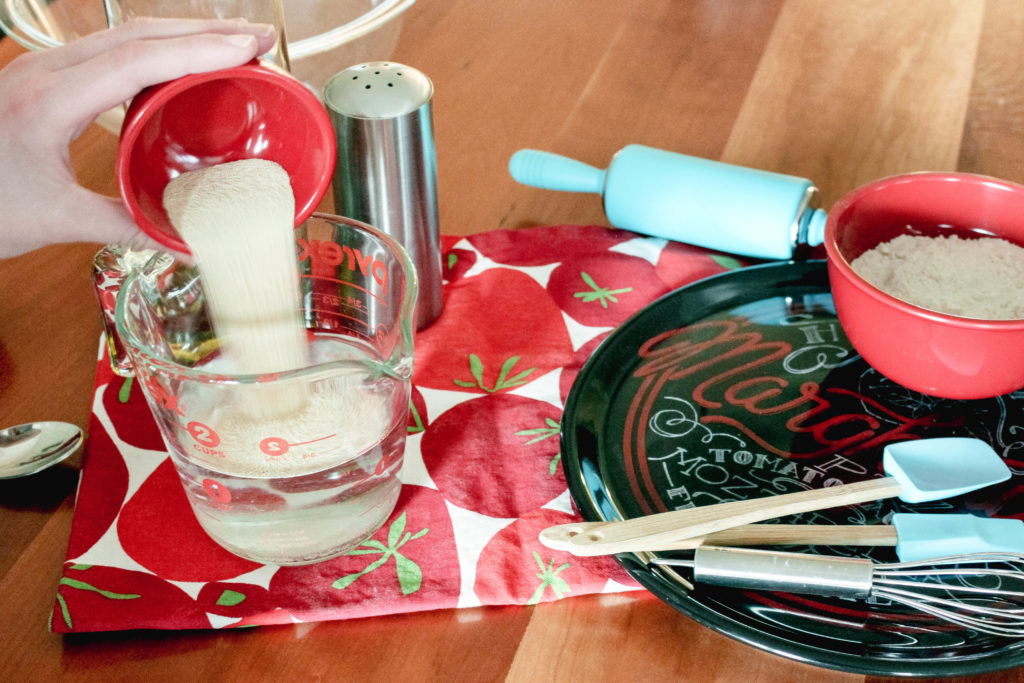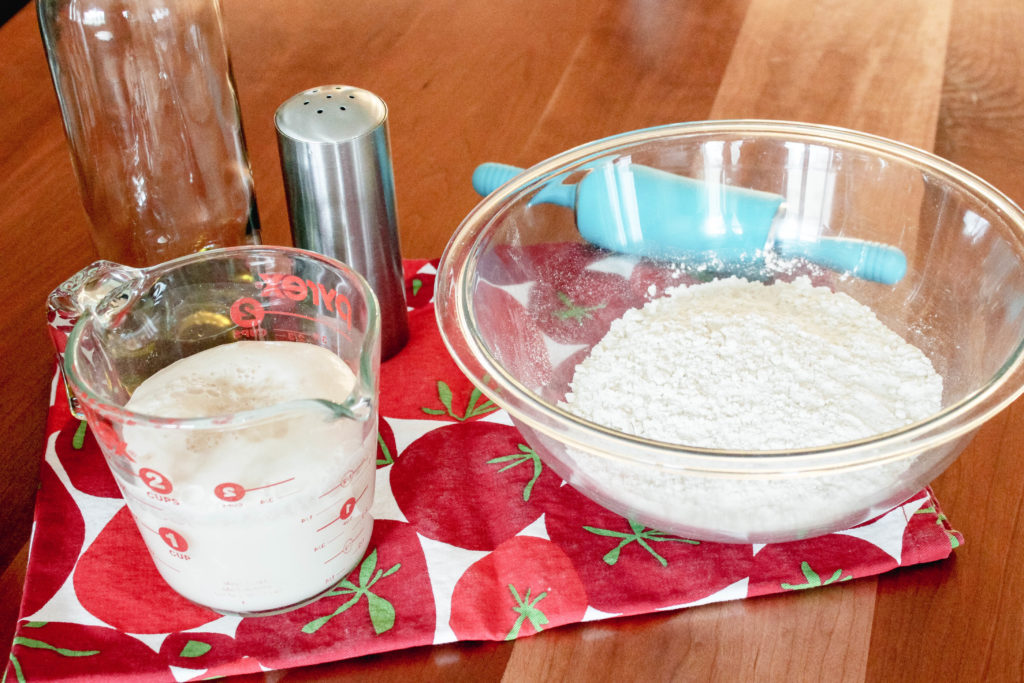 Place 3 of the 4 cups of flour in the bowl and add a pinch of salt, the yeast/water mixture, and 1 – 2 tablespoons of olive oil.
Stir that until it's combined, and then knead in the 4th cup of flour (you may need a little more or less than that…you don't want to use too much and make the dough too dense, you just want to make sure that it isn't sticky).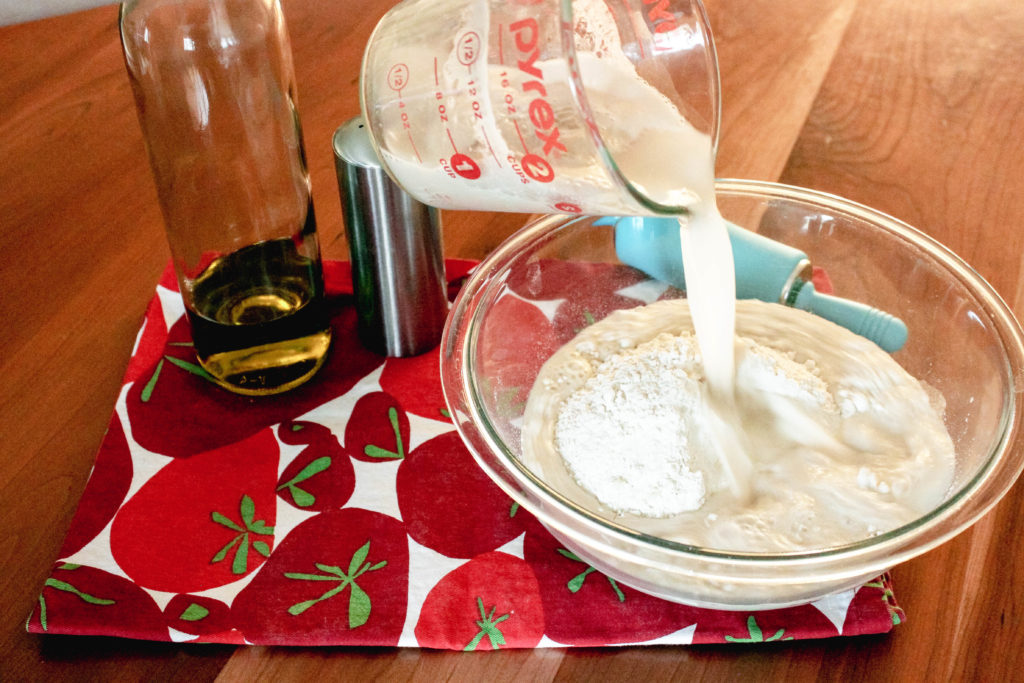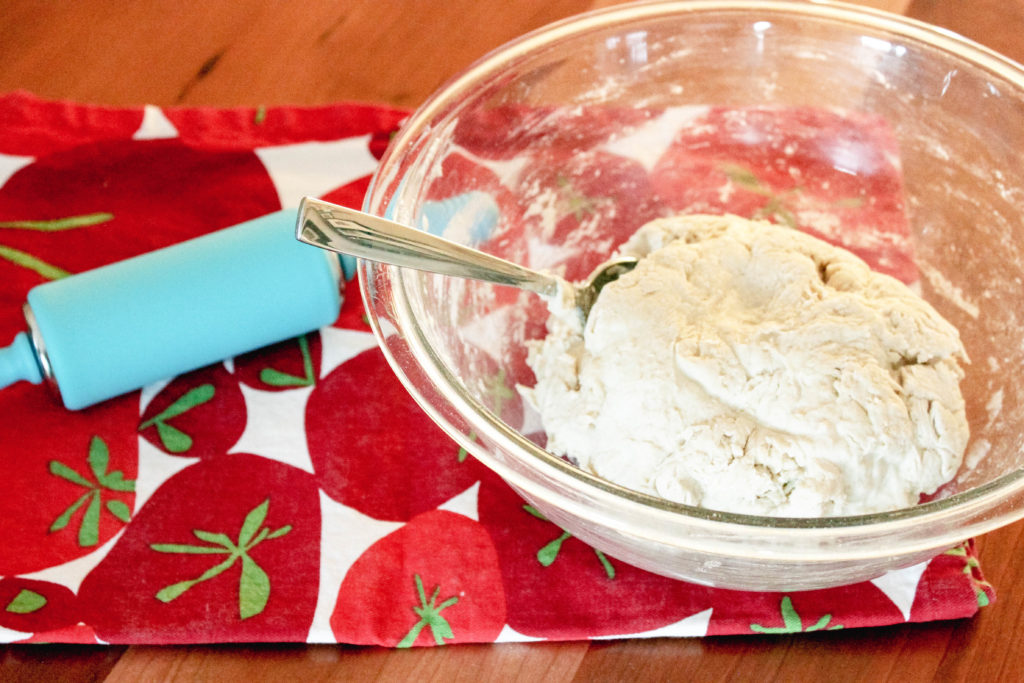 Continue kneading the dough until it's smooth and elastic, then place it in a lightly greased bowl and cover it loosely with a kitchen towel.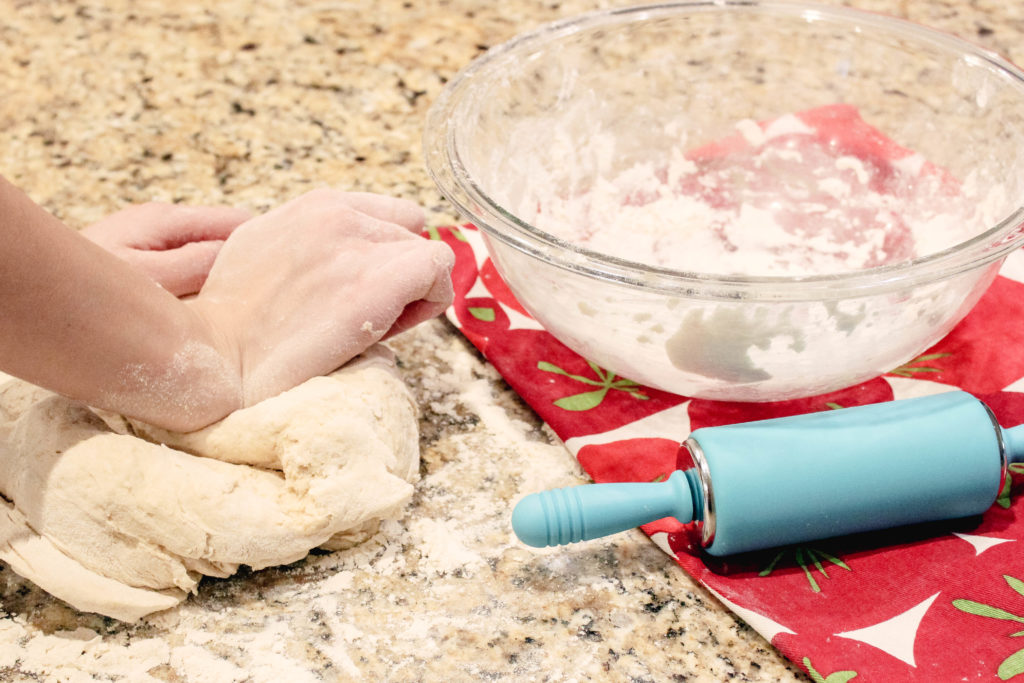 Allow it to rise for a couple hours (ideally) or for barely 30 minutes if somehow you're rushing around trying to pull dinner together at the last second (not that that's ever happened to me ;-)).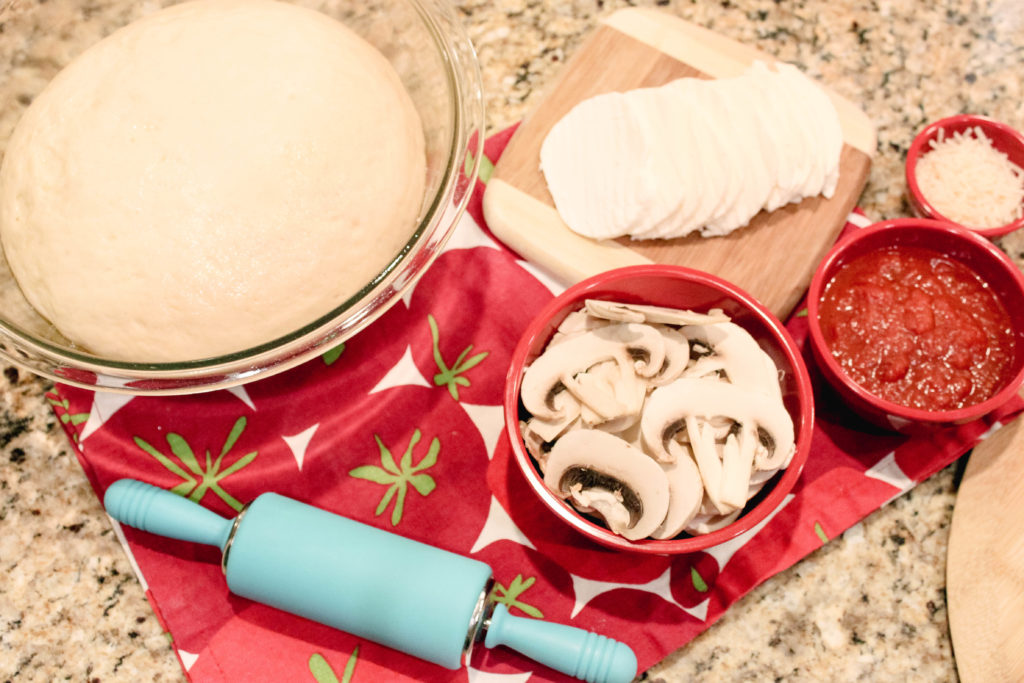 Next you need to figure out your pizza-cooking method. When I first started making pizzas, I used a lightly oiled cookie sheet and I pressed the dough onto that. Now I roll out my dough on a lightly floured countertop, then move it to a pizza peel dusted with cornmeal before adding toppings. Either way works great!
Speaking of toppings, here's where it really gets fun! On a typical Pizza Friday, we tend to keep things simple with just sauce and cheese (lately I've been using slices of the fresh mozzarella they have at Costco…it's so yummy!). But sometimes we like to make more of an adventure out of our pizza dinner (especially if we're having pizza on a night other than Friday) and we make crazy pizzas like hot wing pizza (shredded chicken, hot wing sauce, and cheddar cheese…dipped in ranch dressing of course), Philly steak pizza (with cooked steak, sauteed mushrooms and onions, and provolone cheese), or Mexican pizza (with beef or chicken taco meat and all of our favorite taco toppings). Making crazy pizza is a great way to use up random leftovers that you need to get rid of!
Feel free to really get your kids involved in this part — rolling out the dough and adding toppings — little kids are always more excited to eat something they've had a hand in preparing, and older kids love being guaranteed to get what they want!!!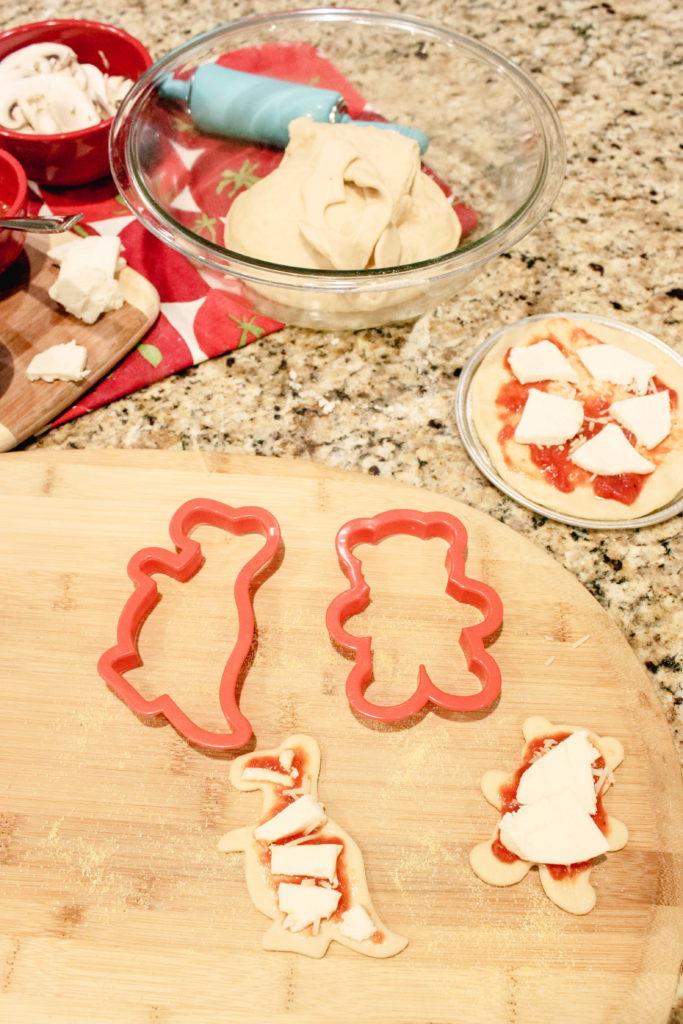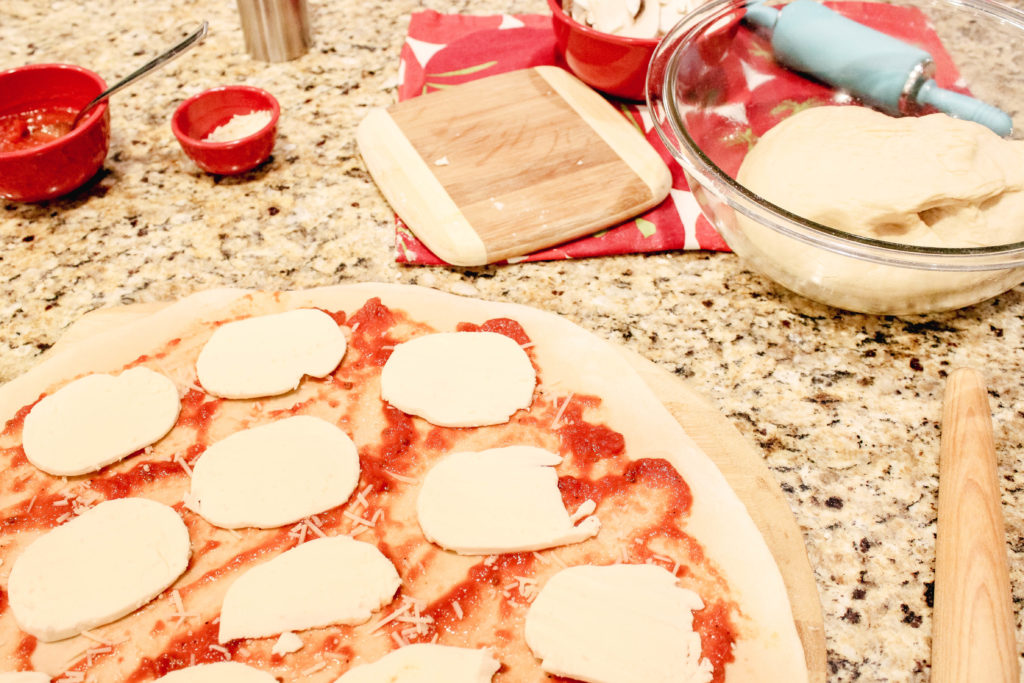 After your pizza is prepped, it's go time! For a cookie sheet pizza, bake it in a 400 degree oven for about 12 – 14 minutes. If you're using a pizza stone, put the stone into a cold oven and then preheat the oven to 450 (if you put the cold pizza stone into a hot oven the fast temperature change might crack it). Once the oven and stone are hot, you'll need to slide your pizza carefully off the peel and onto the stone where it will need to cook for about 10 minutes.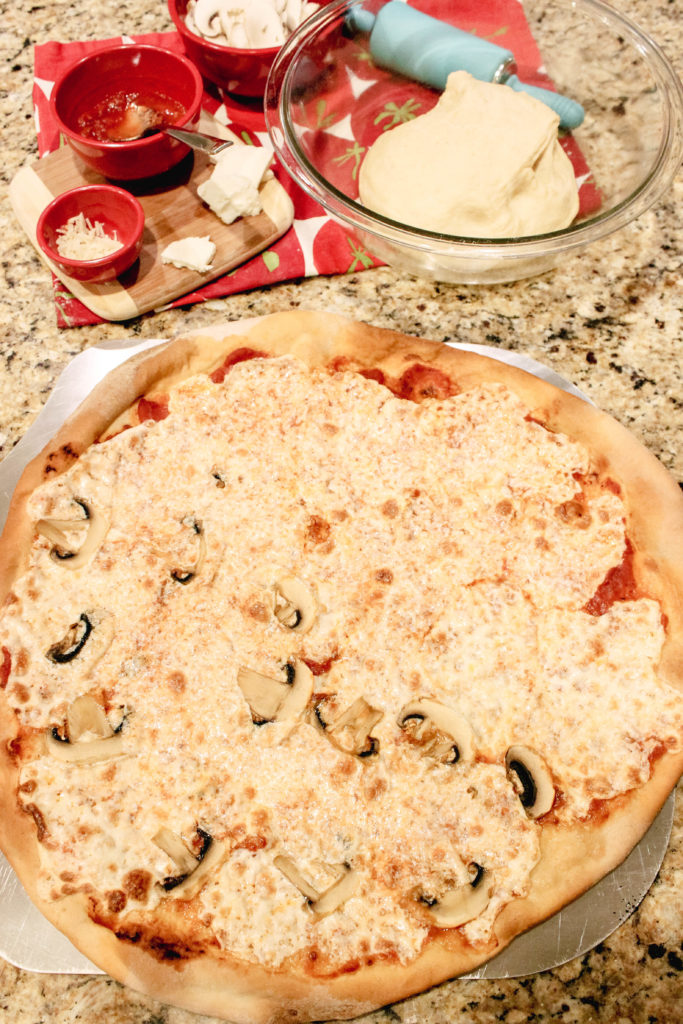 And that's it! Trust me, it sounds way more complicated than it is. And I can demonstrate it much more easily than I can describe it…I wish I could have you all over for a "demo and dinner" pizza night!!!
Thanks for letting me crash your blog, Sarah!